This Porcelain Floor in Upper West Side Got All Its Beauty Back Thanks to Our Grout Sealing Techs
November 18, 2023
Our specialists were contacted by a homeowner in Upper West Side, NY, who'd been having trouble cleaning his bathroom floor. Basically, nothing seemed to stop the stains from spreading on the floor, so the porcelain tiles were thoroughly covered in footprints, spills, and product residue. Instead of looking sleek and elegant, the black floor was discolored with marks of all sizes as different substances got embedded in the tiles.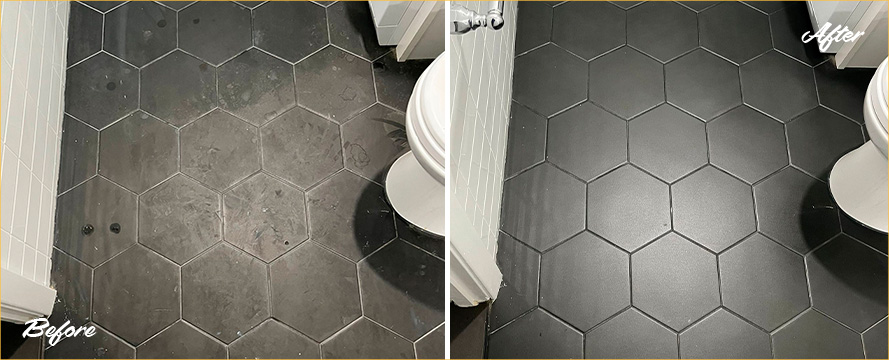 For a brief period, the client continued applying the cleaners he'd always used. He added more hours to his weekly cleaning routine, assuming that his previous efforts hadn't gone deep enough into each stain. Still, porcelain is a delicate material, and the homeowner didn't want to scrub the surface too harshly. After a couple of weeks of no progress, he decided to call the specialists at Sir Grout Manhattan. Many of his colleagues had hired our services in the past and they all had only good things to say about our
grout sealing in Upper West Side
. So, the client visited our website, read through our content, and asked for an in-home evaluation.
A few days after he'd made his request, our specialists visited his home to look at the bathroom floor. Just as the client had explained before, foot traffic, spills, and chemical cleaners had left their mark on the porcelain, impregnating the tiles to the point that it wasn't hard to guess the origin of each stain. As a result, the floor was severely discolored, with tiles and grout taking a dull gray tone. Our techs explained that generic cleaners do little to remove the stains in full. Instead, their soap-based formulas create a foamy film that makes it easier for these stains to seep into hard surfaces. This is, of course, concerning, but our specialists ensured that the porcelain hadn't suffered any permanent damage before defining the best course of action. They told the client that the safest approach was to clean and seal the floors with Sir Grout's special equipment to ensure long-term results. The client was okay with this solution and scheduled a new appointment with our crew.
Our techs came back to the client's home and didn't waste time to start with the restoration. They meticulously cleaned the bathroom floor using a pH-neutral cleaner and a high-speed scrubber to remove each stain. Nothing beats our product when it comes to hard surface cleaning because all the ingredients in its formula work together to quickly remove most stains, including those caused by spills, cosmetics, soap scum, mold, etc. As a result, our cleaner always leaves porcelain surfaces looking spotless without needing the assistance of other store-bought products.
Following this, our techs applied ColorSeal to enhance the protection of the grout lines. Porous surfaces can be a magnet for dirt and mold when they remain unsealed, but our one-of-a-kind sealant is the perfect way to keep the grout spotless for years, even in areas subjected to heavy foot traffic. It stops soil, water, spills, soap scum, mold, mildew, and other external elements from adhering to a surface and makes regular cleaning more efficient. Our techs buffed the floors for the last time before letting the homeowner check the end result.
He was amazed by the change. The tiles looked smooth and spotless, having fully regained their color. After thanking our specialists for their excellent services, he promised to recommend Sir Grout Manhattan to everyone he knew. Already, he couldn't wait to show the floors to the family he had.
As they got ready to leave the house, our team took a moment to share some useful cleaning pointers with the client. Bathroom floors are subjected to constant traffic, and it's hard to conceal the stains on porcelain surfaces. These factors pose a big challenge but there are ways for homeowners to rest easy without lowering the standards of their cleaning routine. Our specialists' main recommendation was to replace generic formulas with pH-neutral products like
Sir Grout's Natural Hard Surface Cleaner
. Without affecting the sealant or damaging the tiles, our product removes most stains and marks in no time. It's the surest way to enhance a floor's beauty and keep it stain-free for a long time. To prevent moisture and water damage, our techs recommended opening the windows and doors, since good ventilation is an essential part of hard surface maintenance. They also told the client to use non-abrasive tools like a mop or a towel to clean the floors without risking scratch marks on the tiles. The client was grateful for their input and promised to follow all their recommendations from now on.
Don't miss out on the ideal solution to revive your home surfaces. Sir Grout Manhattan has the latest resources, the most experienced technicians, and an unmatched work ethic to respond to all your needs. Don't hesitate to come to us with any questions you have on hard surface maintenance. You just have to call
(718) 514-6016
or click on the "Schedule a Free Quote" button to schedule an appointment with our specialists. Also, be sure to subscribe to our
newsletter
to learn more about our latest info and promotions.