Our Tile Cleaning Service in Manhattan Brought Back the Life of This Original Tile Bathroom
August 17, 2018
Bathroom tiles can provide a sleek, elegant, and stylish look that many homeowners seek. To keep them pristine and beautiful, they require proper care and maintenance. As durable as they are, tiles are not impervious to damages and can become stained or dirty with daily wear and tear. Harsh cleaning products and improper methods can also cause harm to the tiled surface. In the shower, bar soap residue builds up into soap scum, leaving nasty stains on the floor or walls. Furthermore, to hold them in place and prevent water leakage, tiles need grout. This is a porous mixture that quickly absorbs dirt, grime, water, and stains. Because of that, it can become a host for mold and mildew, posing a threat for the health of everyone in the house. Sealing the grout lines with a special sealant is important to keep them looking spotless and prevent damage. When the tiles and grout are stained, discolored, and dirty, only experienced professionals can safely restore them.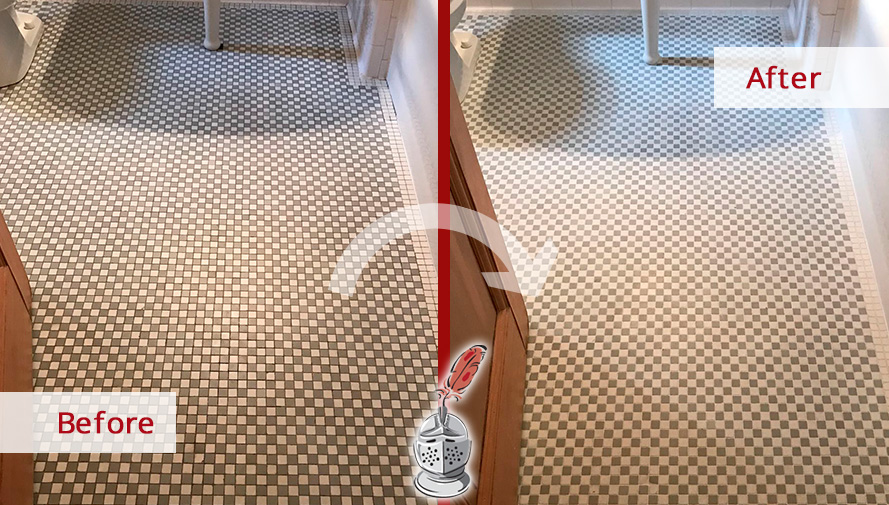 A young woman moved to Manhattan, NY because she got a new job. She had been able to manage the house without problems. She loved to keep her home welcoming and cozy, performing cleaning routines regularly and without issues. Lately, however, she was having trouble with the maintenance of her bathroom. No matter what she tried, the grout lines on the floor stayed dirty and dull. The condition of the surface was not ideal and it was worrying her. She thought the tiles might need replacement. This urged the young woman to search for methods to solve the problem. She wanted to reinstall her bathroom's floor, but our
tile cleaning experts in Manhattan, NY
, rescued her surface for a fraction of the cost.
Before contacting us, she discovered that tiles are one of the more difficult surfaces to install. It takes a skilled hand to make the surface look its best. Replacement was a costly, time-consuming solution and the young woman was in a bind. Luckily, one of her friends, a former Sir Grout Manhattan client, came to visit her and she told him about the problem. He soon told her how we restored his floor with our tile cleaning service. He said the results were magnificent and our experts were professional and explained all the process and its benefits in detail. He recommended checking out our website to get all the information she might need and contact us to solve her problem.
She followed her friend's advice and went online to browse our site. The superior, top tier service we offer was amazing and she was impressed by the great amount of positive comments and testimonials from previous satisfied customers we have. As she browsed the site, our
picture gallery
caught her attention. The pictures showed her the outstanding results of our work and how bathrooms with similar problems had been fully renovated. Everything she saw certified us as a leading company in the hard surface restoration industry, and it was testament of the quality of our effective, tested processes. She was convinced we could restore her floor and decided to fill out a "Request a Quote" form to schedule a free in-home consultation.
We arrived a few days later for the evaluation of the bathroom and to offer an effective solution to achieve its restoration. The owner greeted us and after a brief introduction, we proceeded with the inspection of the surface. At first glance, we noticed that the grout lines suffered from accumulation of dirt and grime. Because of this, the grout had acquired a darkish, stained look that gave the bathroom's floor a dirty, unclean appearance. This was caused by daily wear and tear promoted by bar soap and cleaner residue. Improper cleaning methods and harsh products also caused deterioration on the floor. We also spotted the lack of sealant on the grout lines and we explained to the owner that this left them exposed to all sorts of damage from external agents. The degraded grout and the sullied tiles couldn't be restored with conventional means. This task required professional tools, methods, and special techniques.
We offered a tile cleaning service to remove all the blemishes and make the bathroom's floor sparkle. We would use our experienced techniques and top quality products to clean the surface. The products we use are effective and safe for the grout and tiles, giving only the best results possible. We would seal the grout lines using our exclusive ColorSeal. This unique sealant is water-proof, stain-proof, and it provides protection against mold and mildew in areas with high moisture and humidity. It also boosts the appearance of the surface by giving the grout lines a unique, uniform color. We assured the owner that after our work the floor would no longer look dirty and the bathroom would regain its beauty. She was pleased with our assessment and the solution we proposed. The owner accepted our offer and set up a date for the job.
We returned to our client's house on the appointed date ready to begin the tile cleaning process. It was going to be a multi-stage procedure that required skillful crafts, top-notch products, and professional expertise:
Using our exclusive pH-neutral tile and grout cleaner with a gentle, high-speed scrubber, we cleaned floor. The product we used is safe for the grout and won't discolor or damage the tiles. It is soap-free so it won't leave any residue that could be absorbed by the grout lines. Also, its enhanced formula now can help inhibit the growth of bacteria and fungi. The surface can stay clean for an extended period of time after its application. We performed this step until the bathroom was completely clean.


Using a vapor steam cleaner, we sanitized the environment, reaching the most difficult areas. When this was completed, we got rid of the mold and mildew and we left the bathroom fungi free.


Cleaning the old, dirty, and muddy grout and performing the necessary repairs. We painstakingly worked on the bathroom's floor until there was no trace of grime left and all the grout lines were pristine and spotless.


Sealing the grout lines with our exceptional ColorSeal. This top of the line sealant offers protection against water, stains, mold, and mildew, all while giving the grout a brand-new look. ColorSeal comes in a wide range of colors, suitable for any surface. We used the color desired and chosen by the owner. Our sealing process not only enhances the appearance of the surface, it also makes cleaning routines easier and faster.
We performed all the steps on the entire floor. When the process was completed, the surface had been fully restored. The bathroom had a pristine and charming appearance. All the grout lines had a beautiful, vibrant color and the tiles looked clean and free of dirt and soap scum. The elegance of our client's bathroom had returned and now it was protected thanks to our exclusive sealant and our Natural Hard Surface Cleaner. This feat could have only been accomplished with our experienced techniques and proprietary products.
We then invited the owner to see the results of our work. She was thrilled to see that her bathroom's floor no longer looked dirty or unappealing. The tiles and grout lines had a brand-new charm, as if they had been freshly installed. The owner was relieved we could achieve that level of restoration without costly, time-consuming replacement. Impressed with our performance, she stated that from that point on TagSiteName would be her company of choice for any hard surface restoration she might need in the future. After thanking us, she said that she would certainly recommend our services to all her friends, family, and neighbors.
We provide our clients the best solution for their problem and guarantee long lasting, easy to maintain results, and we always take time to train them on how to perform proper cleaning routines on their restored surface. Before leaving, we gave the young woman some recommendations and suggestions to keep the bathroom in great condition for a long time:
Use only pH-neutral, soap free cleaners, such as Sir Grout's Natural Hard Surface Cleaner. Our product has ingredients that can help provide protection against bacteria and fungi. Soap-based cleaners should be avoided because they leave a film that seeps deep into the grout lines, giving the surface an unsightly appearance and promoting mold and mildew growth. Establish a cleaning routine and clean the shower regularly.


Keep the area well ventilated and dry. Due to the humidity of the bathroom, proper ventilation is important to prevent fungi growth. The door or a window should be left open after using the shower to allow the moisture to flow freely. Also, when drying the surface, use a squeegee, a towel or a terry cloth. Scrub gently to avoid scratches, after our ColorSeal is applied, minimal effort is required to dry the surface.


Try to use liquid soaps instead of bar soaps. The residue left by bar soaps hardens on the surface and forms soap scum. This creates nasty-looking stains that can't be removed with conventional cleaning methods. We suggest using soaps that don't leave any residue to prevent this issue.
These easy to follow steps, our high level process, and superior quality products would help maintain the restored condition of the bathroom for years to come.
At Sir Grout Manhattan we have tried dozens of procedures, and we know exactly which one to use to restore your surface. It is possible to renovate even the dingiest, oldest bathrooms with our award-wining processes. We provide experienced and qualified tile cleaning services which will give your bathroom a second chance. As a leading company in the hard surface restoration industry, we have the most effective techniques to solve your problem. Don't hesitate to contact us by calling
(718) 514-6016
or by filling out our "Request a Quote" form for a free in-home consultation. We will be happy to attend you. Also, be sure to subscribe to our
newsletter
to receive our latest info and promotions.
If you found this article helpful then let us know in the comments section below. Likewise, feel free to share it using the share options below. Want us to cover another topic of your interest pertaining to Hard Surface Restoration? If so, then like us and follow us on social media, and post to any of our social media profiles the topic you'd like us to discuss:
Facebook Sir Grout Manhattan
,
Instagram @sirgroutmanhattan
, and
Twitter @SirGrout
.