Grout Sealing: Black Tiled Floor Gets Professionally Restored in Soho, NY
September 16, 2023
This homeowner wanted to improve the look of his black tiled floor. Despite his best efforts, the cleaning routines left the surface looking dusty and unpleasant. Nothing he'd tried so far seemed to be working. The owner employed several DIY approaches he saw online, but he soon felt disappointed to find there were no positive results.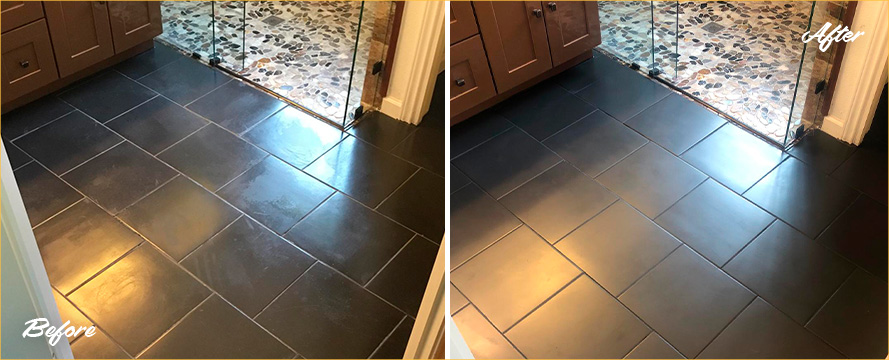 The homeowner opted to hire the most renowned
sealing services in Soho, NY
. Luckily, he was talking to one of his coworkers one day, and she told him about Sir Grout Manhattan, claiming that we had done an outstanding job at her place. The owner went online to our website to learn more about us. He was confident we were the best option after looking through our photo galleries and reading testimonials from our happy customers. by clicking on the "Schedule a Free Quote" button, he requested a free in-home consultation.
We went to the owner's residence to evaluate the surface as requested. The black tiled floor had an ugly aspect, and the grout lines had gathered dirt. This made the grout lines not match the tiles. As a result, the entire surface looked terrible. We noticed the grout was also unsealed. Because this is a susceptible component, it was vital to remedy the issue. It can absorb water, dirt, and filth due to its porous nature. This can result in more serious problems, such as structural damage.
After completing the evaluation, we determined that Sir Grout's skilled procedure and high-end equipment were required for a successful restoration. We offered our grout sealing services, which include a standard color seal to improve the surface's appearance and provide a durable sealer covering the black tiled floor. The owner hired us because he liked our evaluation.
We returned the next day with all of the necessary tools to perform the restoration. The first step was to clean the floor with bio-safe cleaners. To remove the soap accumulation, the floor was extensively cleaned to eliminate any sign of grime. The most difficult-to-reach areas were then steam-cleaned. Before sealing the floor's grout lines, our team diligently worked on the grout all around the floor.
Regular cleaning will not be successful depending on the severity of the damage. As a result, many homeowners find this chore difficult and time-consuming, and it quickly becomes frustrating. Sir Grout Manhattan, on the other hand, has the skills and knowledge to handle any problem with this susceptible component. The sealing process was the only step missing to complete the restoration.
Finally, our crew dried the surfaces and applied our penetrating grout sealer ColorSeal on the floor grout lines. Our sealing method is the greatest long-term solution to keep the grout clean in the busiest areas of a home. It prevents grout from absorbing dirty mop water, spills, pet accidents and associated smells. It contains hardening chemicals to help decrease grout erosion and offers complete protection for your hard surfaces.
Our client was quite pleased with the job's outcome. He was delighted with the floor's fresh look. He thanked us and told us that our work exceeded his expectations and that he would suggest Sir Grout Manhattan to his neighbors.
Surfaces that are subjected to a lot of foot traffic can soon deteriorate. As a result, floors must be properly maintained and cared for. Sir Grout's recommendations must be followed to keep these difficult places in top condition. We recommended establishing a weekly cleaning routine to prevent dirt accumulation. Use only pH-neutral cleaners, such as
Sir Grout's Natural Hard Surface Cleaner
, for best results. Our cleaner is soap-free and won't harm your tiles or grout. It's also non-toxic and safe for everyone.
Soap-based cleaners and acidic substances should be avoided. These treatments leave a foam behind that seeps into the grout and contains substances that are potentially harmful to the surface. Use a clean mop to apply the cleaning solution, and allow the floor to dry completely before entering the room again. Keep pets and children away from the wet surface. We don't recommend using abrasive products like steel wool to clean black tiled floor since they leave scratches.
Giving your floors a new look doesn't have to be a difficult or time-consuming task. It may be simple and quick with Sir Grout Manhattan's help. Our certified personnel is well-versed in how to assist you. Our technicians can restore the beauty of any surface using our exceptional grout sealing procedure. We have years of expertise as a leading company in the hard surface restoration industry, providing reliable solutions to countless satisfied consumers. For a free in-home consultation, call
(718) 514-6016
or click on the "Schedule a Free Quote" button. Don't forget to subscribe to our
newsletter
if you want to stay up to speed on our latest news and promotions.