A Restaurant in Manhattan, NY, Boasts a Newly Revamped Floor Thanks to Our Hard Surface Restoration Services
October 10, 2023
Restaurants must uphold high standards of hygiene. For this reason, surfaces in these establishments should be pristine and spotless. However, there are certain issues that common cleaning methods can't address, and soon, maintenance becomes a headache. A restaurant in Manhattan, NY, had a shabby floor. The manager of the property noticed the condition of the surface was not ideal, and the customers were not happy, which was a big problem for the business. After considering his options, he decided to look for professional assistance. Thankfully, Sir Grout Manhattan was there to offer a remarkable solution.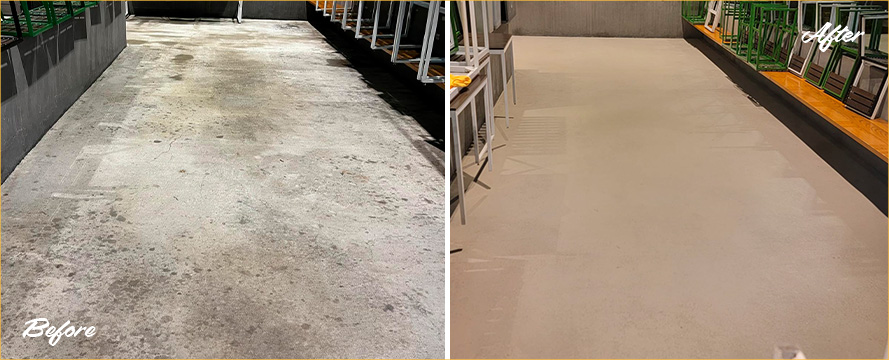 The manager found us with a quick internet search. He went online and typed
hard surface restoration services in Manhattan, New York
, on his search engine, and the top results led him to our website. After browsing our
picture gallery
, and reading some of our blogs, he was convinced we were the best option. Hoping to solve his problem quickly, he contacted us and asked for a free evaluation.
Following the request, we arrived at the restaurant to inspect the surface. Expecting our visit, the manager welcomed us, and we proceeded with the assessment. After discerning the issues, we shared our insights. Over the years, the concrete floor had decayed, and it was stained and discolored. As a result, it looked run-down and unappealing. To add to this, the surface needed sealing. Since this is a busy area, the floor was exposed to all sorts of external agents, which can lead to further degradation. To prevent future damage, it was necessary to apply a special sealant.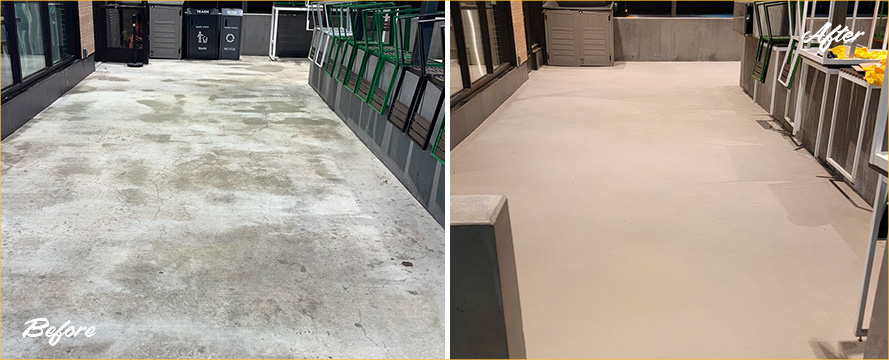 Upon reaching a satisfactory conclusion, we discussed a solution with the manager. We had determined regular cleaning wouldn't be effective, and the surface needed professional treatment, so we offered our hard surface restoration services. With our advanced process and high-end equipment, we would rectify the damage, improve the condition of the surface, and give the floor a brand-new look. Before providing a quote, we performed a brief test to prove the efficacy of our methods. Impressed with the amazing results, the manager hired us without hesitation.
Soon after the inspection, we returned to the property with the necessary equipment to perform the job. For optimal results, we followed a thorough multi-step process. First, we cleaned the surface using our exclusive cleaner. Our product is made with top-quality ingredients and it doesn't leave a residue, so it won't cause any damage. With this procedure, we also removed the stains from the concrete, coloring the surface with a beautiful new look. The next step was the sealing process.
For this task, we applied a coating of MicroGuard. This added a stunningly beautiful finish, greatly improving the appearance of the surface. Thanks to its highly durable composition, it offers superior strength, durability, and resistance. With unmatched defense, it protects surfaces from abrasion, staining, and chemical substances, minimizing deterioration from day-to-day wear.
MicroGuard is ideal for commercial settings because it offers long-term results with hydrophobic protection that repels dirt and other debris, resulting in significant reductions in cleaning and maintenance costs. With proper care and maintenance protocol, the coating can last up to five years. As expected, the restoration was a complete success. All the problems had been addressed, the surface had received a full renovation, and the floor looked phenomenal.
With our goal accomplished, we called our client and showed him the results. The manager loved the renewed appearance of the floor. He was very happy because the process had been fast, efficient, and cost-effective. Happy with our work, he thanked us, and before we left, he inquired about our commercial maintenance program to schedule regular maintenance.
Surfaces in commercial settings are subjected to heavy wear and tear, which leads to quick deterioration. Because of this, they require proper care. Following Sir Grout's recommendation is essential to achieve optimal maintenance procedures. We recommended setting a regular cleaning routine using only pH-neutral, soap-free cleaners like
Sir Grout's Natural Hard Surface Cleaner
. Our product is the best option in the market, offering remarkable results and many benefits. It is also non-toxic and safe for everyone.
We don't recommend using soap-based cleaners or substances with acidic properties. These products contain harsh agents that can have negative effects on the surface. They also leave a sticky foam, causing several issues like stains, discoloration, and other damage. When cleaning the area, always use clean mops, and make sure to prevent foot traffic on the wet surface. Avoid using abrasive tools because they can leave scratches.
As you can see, Sir Grout Manhattan's hard surface restoration services offer excellent results. Rest assured, our top-notch processes are effective in any setting, including bustling commercial environments. Don't wait any longer and contact us by calling
(718) 514-6016
or by clicking on the "Schedule a Free Quote" button for a free consultation. To learn more about our commercial restoration services,
click here
, and discover what our maintenance program can do for your business. Likewise, please consider subscribing to our
newsletter
so you don't miss out our latest promotions and updates.