Sir Grout of Manhattan Receives Rookie of the Year Recognition
Sir Grout of Manhattan named this year's "Rookie of the Year" at Sir Grout's annual award ceremony.
Manhattan, NY - (PRWEB - March 03, 2015) - Every year, Sir Grout holds an annual meeting and award ceremony in Estero Beach, Florida as a way to hone the skills of its widespread team of hard surface restoration experts and to reward the accomplishments of its highest-achieving franchises by presenting awards in the categories of "Most Improved," "Renewal of the Year," "Rookie of the Year," "Teamwork," "Above and Beyond," "Million Dollar Club," and "Grout Man of the Year." To read more about Sir Grout's annual
convention of tile and grout experts
, visit its blog.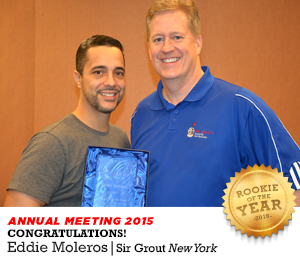 Receiving a Sir Grout award is especially hard for the newer locations, since the more seasoned franchises have had more time to learn the ins and outs of the industry. To put the newest franchises at less of a disadvantage and compensate for any supposed unfairness, the "Rookie of the Year" category was created and, at this year's award ceremony, Sir Grout of Manhattan was one of its winner. Earning this award proved to be an impressive feat for the new franchise, especially since Sir Grout had added many new locations throughout 2014. However, by building up its reputation faster than the other franchises, and thus enabling it to grow tremendously within just a few months, Sir Grout considered Sir Grout of Manhattan to be most worthy of this recognition.
Since opening its doors just last March, Sir Grout of Manhattan has already managed to become well-known for its expertise. As a result, word of the hard surface care company quickly spread like wildfire out of Brooklyn and Queens, the original areas of its existence, and deeper into the Big Apple. To appease the rapidly rising requests for its services, Sir Grout of Manhattan decided to expand its reach to now also include Manhattan, making its latest endeavor earn a name for itself as the leading
Manhattan Tile and Grout Cleaners
.
In response to the award, Eddie Moleros, Sir Grout of Manhattan's owner, stated, "Receiving this award is definitely encouraging to a company like us who uses our accomplishments as fuel for greater success. Being named "Rookie of the Year" is a great pay off for the hard work we put into every project and it will inspire us to work even harder in the coming months."
To get in touch with Sir Grout of Manhattan, call
(718) 514-6016
today or visit
www.sirgroutny.com
to request a free in-home estimate.